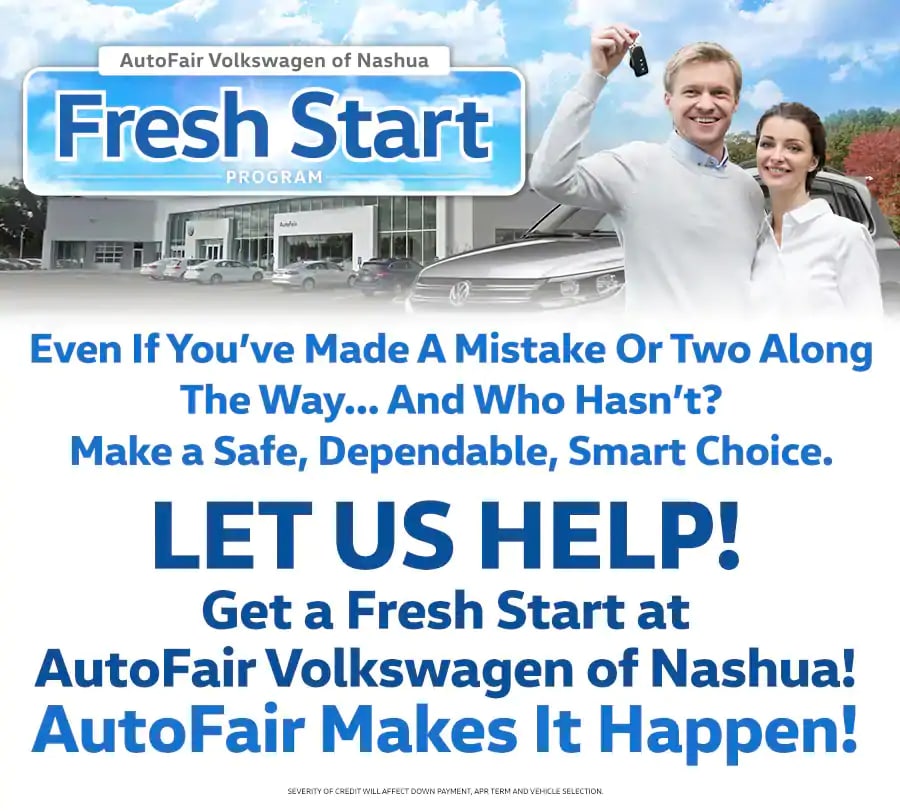 Credit issues can be truly frustrating, especially when you need a car and can't seem to get approved for a loan. Any number of common situations - divorce, job loss, serious illness - can cause your credit score to dip, or maybe you're just starting out in the world of financial independence and simply haven't established credit yet. Wherever your credit challenges came from, you have friends at AutoFair Volkswagen of Nashua who understand and want to help. We're happy to offer the Fresh Start Program to help good people with not-so-good credit get the second chance they need.
Is the financing process different for people with bad credit?
The first step in going for a loan is to understand exactly where you stand in your credit situation, which means knowing your current credit score. Your credit score is a number determined by the independent entities FICO and Equifax to put a numerical value on your risk factor to the lender: a high credit score indicates minimal risk and a low credit score indicates significant risk. This three-digit value, which ranges from 280 (Equifax) or 300 (FICO) up to 850 gives lenders a starting point for approval or denial. For instance, a particular loan program may have a cutoff point of 630, which is considered a fair (not too great, but not dismal) credit score. If your score falls below 630, the lender won't work with you and you'll need to keep looking for one that will - most likely a subprime lender who specializes in financing people with credit issues.
What is a subprime loan?
Subprime loans are designed with stricter terms and higher APRs than standard loan programs because the lender is taking more of a risk in working with borrowers whose credit history isn't great (a low credit score reflects a history of late or missed payments and other credit-related red flags, such as a high debt-to-credit ratio). On the same token, a person with an outstanding credit score - say, above 780 - will be eligible for programs with the lowest interest rates.
How does the Fresh Start Program work?
AutoFair's Fresh Start Program is simple: it offers a solution for potential who've been rejected on past loan applications. Again, we understand life's challenges and know there are many reasons people end up with low credit scores - but we also understand how important it is to have a dependable vehicle. When you apply for the Fresh Start Program, you'll work with our experienced and helpful financing staff, who will assess your financial situation, including your employment and income information and whether you'll have a co-applicant, to see how you qualify. That assessment will determine not just how much you can afford each month, but also which VW models you'll be eligible to buy, the down payment you'll need, what your interest rate (APR) will be, and length of your loan period.
Once you're in your new vehicle, all you'll need to do is keep making your monthly payments on time and your credit score will steadily improve, as long as you don't take on other debt elsewhere (such as opening new loans or credit cards and not paying down other balances). Each payment not only improves your debt-to-income ratio, but it also shows your commitment to paying on time.
The Fresh Start Program lives up to its name by helping you establish new credit or fix existing credit issues with the purchase of a dependable vehicle from AutoFair Volkswagen. Give us a call today at 603-836-9831 or apply online now.
Most Common Credit Issues
Not all credit issues are created equal, but some happen more often than others. Below you'll find a brief list of a few of the most common financially-devastating situations we see among buyers who are looking to improve their financial situation.
Filing Bankruptcy
Bankruptcy is more common than you might think, and we know that it can happen to anyone at any time. If you've filed for bankruptcy, we are here to assist you in getting a fresh start by rebuilding your credit score with a feasible auto loan.
Missing Payments
We get it, sometimes bills get misplaced, or your automatic payments didn't make it through on time. Whatever it is, late or missed bills happen; however, there are several ways you can stay on top of the ball so that these situations happen on a more infrequent basis. If you're interested in learning about how to better manage your payments, or you simply want to work through your credit situation, then you should seek out our expertly-trained financial team who can help guide you in the right direction.
Experiencing a Foreclosure
If you have had your family foreclosed on you in years past or recently in the Bedford, Nashua and Westford, MA areas. At AutoFair Volkswagen, our financial team is ready, willing, and able to help you get back on sure footing.
Going Through a Divorce
Attaining an auto loan after a divorce can be challenging, but not impossible. If you're curious as to how you can acquire a loan after such a difficult experience, we are here to help.
You're a First-Time Buyer
If you're a first-time buyer who hasn't established a credit score yet but needs a loan for a vehicle ASAP, let AutoFair Volkswagen assist you!
At AutoFair Volkswagen, we're aware that financial challenges can happen to the best of us. Whether it be an issue related to unemployment or a medical emergency, the fact of the matter is that sometimes, despite our best efforts, our lives can spin out of control. Bad credit can oftentimes be the unsavory result of a financial hardship, but that doesn't mean you need to be out in the weeds forever. When you work alongside our financial experts at AutoFair Volkswagen of Nashua, we'll make sure to help you secure an auto loan with a favorable interest rate. That way, you can quickly improve your credit score by making consistent, manageable payments. As Southern New Hampshire's premier Volkswagen dealer, we have plenty of experience helping customers improve their financial situations, so why not give us the chance to help you turn things around for the better?