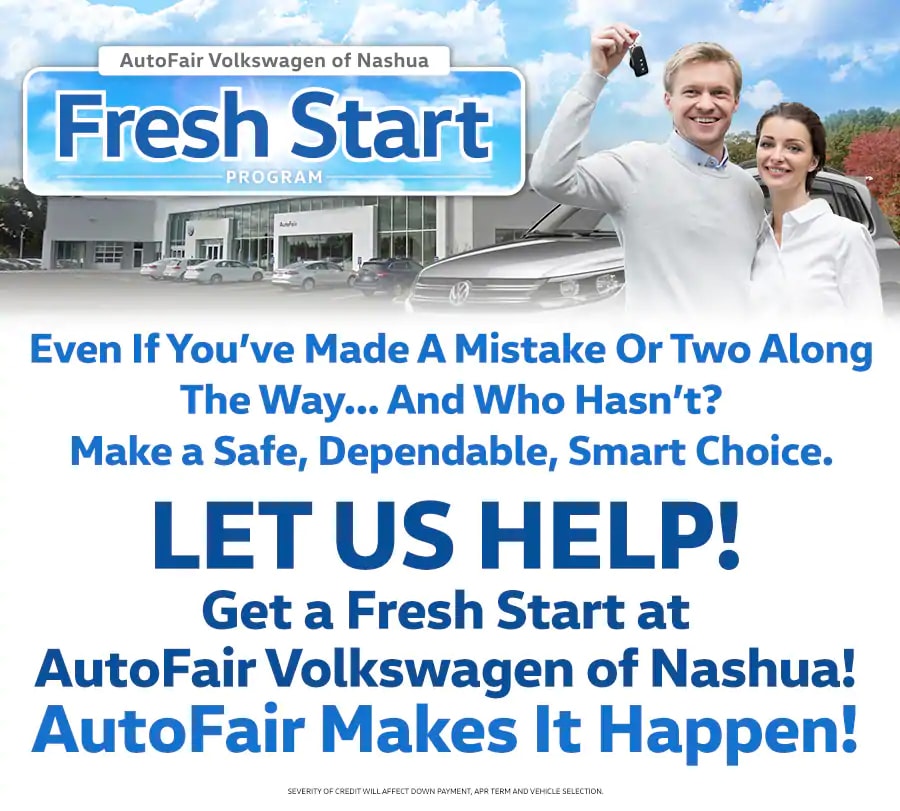 Credit issues can be truly frustrating, especially when you need a car and can't seem to get approved for a loan. Any number of situations - divorce, job loss, serious illness - can cause your credit score to dip, or maybe you're just starting out in the world of financial independence and simply haven't established credit yet. Wherever your credit challenges came from, you have friends at AutoFair Volkswagen of Nashua who understand and want to help. We're happy to offer the Fresh Start Program to help good people with not-so-good credit get that much-needed second chance.
Know Your Credit Score
The first step in going for a loan is to understand exactly where you stand in your credit situation, which means knowing your current credit score. Simply put, your credit score is a number determined by the independent entities FICO and Equifax to assess the risk you represent to a lender: a high credit score indicates little risk and a low credit score indicates high risk. This three-digit value, which ranges from from 280 (Equifax) or 300 (FICO) up to 850 gives lenders a starting point for approving or denying you for credit. For example, a certain loan program may have a cutoff point of 630, which is considered merely a fair credit score. In that case, if your score falls below 630, the lender won't work with you and you'll need to keep looking for one that will. In that case, you'll be looking for a subprime loan: a specialized kind of borrowing for those with low credit scores.
Subprime loans have stricter terms and higher interest rates than other loans because the lender is taking more of a risk in working with them, since the low credit score reflects a history of late or missed payments. On the same token, a person with an outstanding credit score - say, above 780 - can qualify for special programs with lower interest rates than people with average to low scores must pay.
Get Your Fresh Start Today
AutoFair's Fresh Start Program is simple: it offers potential buyers the opportunity to get credit approval when they're saddled by credit challenges. Again, we understand that there are a variety of reasons why people end up with poor credit, and we also understand the importance of having a reliable vehicle. When you apply for the Fresh Start Program, you'll work with our dedicated financing staff members, who will assess your current financial situation, including your employment and income information and whether you'll have a co-applicant, to see how you qualify. Note that these individual circumstances will determine which vehicles you'll be eligible to purchase, the amount you'll need to put down, your interest rate (APR), and number of months in your loan.
Once you're approved through the Fresh Start Program, all you'll need to do is keep making your monthly payments on time and your credit score will steadily rise. That's because each payment made improves your debt-to-income ratio, as long as you're paying all of your other bills on time and not taking on any new debt (such as using your credit cards without paying the balance in full every month).
The Fresh Start Program lives up to its name by helping you establish or repair your credit with the purchase of a dependable pre-owned vehicle from AutoFair Volkswagen. Give us a call today at 877-363-8623, apply online now, or come on in to 717 Route 101A in Merrimack, New Hampshire and see us in person.